Market analysis by real estate debt advisory specialists Sirius Property Finance, reveals that the UK's commercial property sector has demonstrated an impressive bounce back since taking a significant hit during the COVID-19 pandemic, with even the supposedly struggling retail and office sectors showing strong signs of recovery.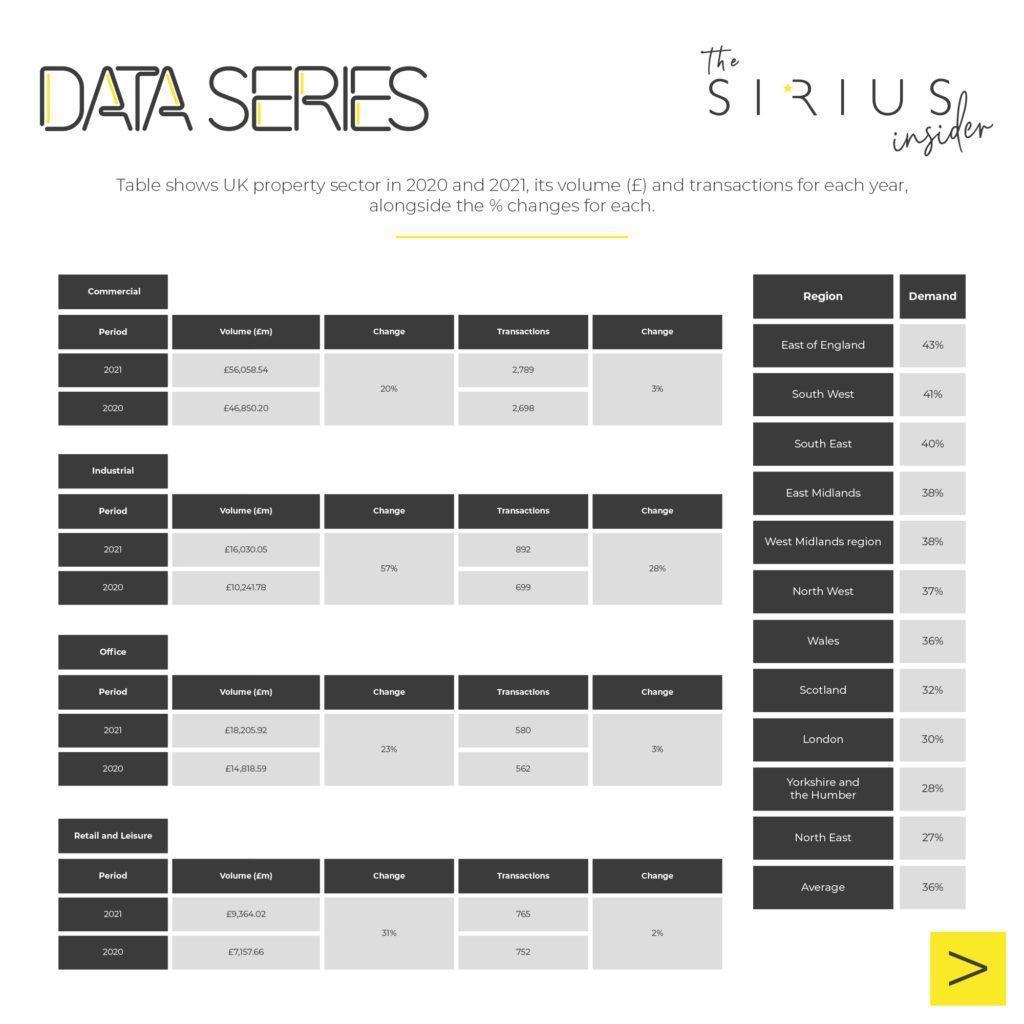 In 2021, the UK commercial property sector completed 2,789 sales transactions, up 3% on 2020's total of 2,698. Furthermore, the total value of those transactions which, in 2021, totalled £56million, was up 20% on 2020'stotal of £46.9million.
Much of this growth has been driven by the industrial property sector, with the number of transactions increasing from 699 in 2020 to 892 in 2021, a rise of 28%.
At the same time, the total value of industrial commercial transactions has increased by 57%, from £10.2million in 2020, to £16million in 20201.
What is perhaps more surprising is the increasing health of both the commercial office sector and the commercial retail sector, with both enjoying positive growth in 2021 after a very tough initial year of the pandemic.
Despite the much-reported exodus of office space due to work from home advice, the total number of office transactions increased by 3% in 2021. The total value of these transactions also increased 23% to £18.2million.
As for retail and leisure, another widely reported victim of the pandemic, transactions increased by 2% in 2021 with the total value of these transactions up 31% in the last year.
Head of Corporate Partnerships at Sirius Property Finance, Kimberley Gates, commented:
"It's fair to say that office, retail and leisure facilities became largely obsolete for much of 2020 and so the outlook for the commercial sector was very different to the market boom experienced across the residential space.
However, we're now seeing a strong level of market activity return and not only are transactions climbing, so too are commercial real estate values.
This suggests a real sign of intent from British businesses who are looking to bounce back from pandemic uncertainty while planning and expanding for the future."
Commercial property transaction data sourced from PropertyData.com – https://www.propertydata.com/
Commercial property demand data sourced from Rightmove – https://www.rightmove.co.uk/